Tangled Maze
Be sure not to forget the way out!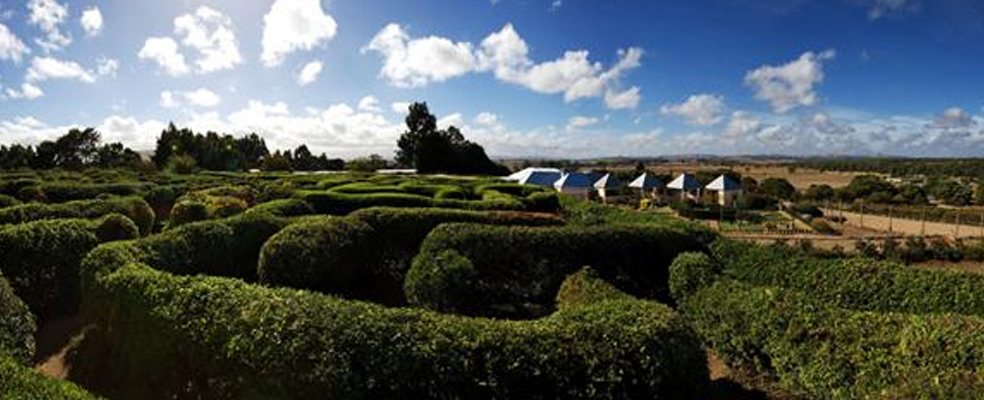 Image 1 of 1
If you're interested in visiting the popular Tangled Maze, you might be looking for accommodation in Creswick. Did you know that the Ballarat Budget Motel is only 20 minutes drive from this popular tourist attraction? Not only can you spend the day exploring, you can spend the evening in a self-contained room!
Things To Do
The Tangled Maze offers a variety of family friendly activities that are sure to keep the kids amused for the whole day. Navigate the 1.4km of pathway in the Botanical Maze. With 2m high walls and thousands of beautiful plant species, this isn't just fun for the kids! Try your hand at the 18-hole Knot's Landing Mini Golf course – it might look easy, but is trickier then you think!
Don't worry about getting wet at Amaz 'n' Ice, which is the attraction's brand new synthetic ice rink. This is a big draw for many staying at Creswick accommodation, as you won't have to go back to your motel room soaking wet. Finally, have a rest whilst the kids explore Amaz 'n' Play, which is a huge indoor play structure (perfect for young children).
Nursery
Attached to the maze is the Mistydowns Nursery, which is known for housing one of the finest Heritage Rose collections in Australia. If you're an avid gardener, don't hesitate to drop in before you leave.
Prices & Opening Times
The maze is open daily from 10am to 5pm, whilst the Mistydowns Nursery is open from 10am to 4pm Monday to Friday. Admission to each of the activities can be charged separately, although packages are available. An "All Day Family Fun" pass is also available for 2 adults and up to 2 children, which includes all 4 activities for each person. Entry to the nursery is free.